Marayoor Jaggery -Organic,Chemical-free Sarkara/Sharkara
Brand:

NatureLoC

Product Info:




INGREDIENTS

: Marayoor sugarcane juice boiled, hardened, and hand-rolled into balls. 

FEATURES:

Dark brown colour with golden patches, low in sodium and high in iron content. 

SHELF-LIFE

: 6 months, best to refrigerate after opening.

In Stock
Marayoor Jaggery | Marayoor Sharkara | Marayoor Sarkara | മറയൂർ ശർക്കര
Marayoor Sharkara or Marayoor Jaggery/ Gur/ Bellam/ Vella/ Sakkarai is known to be one of the sweetest jaggeries available in India. Jaggery production is considered to be a cottage industry in this part of the world and is traditionally made in the respective farms. Marayoor or Marayur is a town located in the Idukki district of Kerala. This place in South India is famous for its natural Sandalwood forests and sugar rich jaggery production. Initially, the sugar cane juice is heated in a huge vessel. It is then boiled and condensed to form high-quality jaggery balls. The process is an example of pure workmanship, each jaggery ball is handcrafted making it one of the existing industries which are not automated.
MARAYOOR JAGGERY IN DIFFERENT LANGUAGES

: മറയൂർ ശർക്കര,गुड़ English: Jaggery; 

Tamil: Vellam; 

Malayalam: Sharkkara / Sarkara; 

Telugu: Bellam; 

Hindi: Gur/Gud.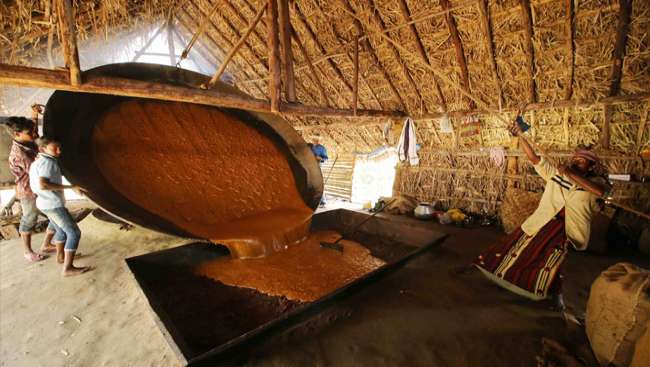 Detailed Description: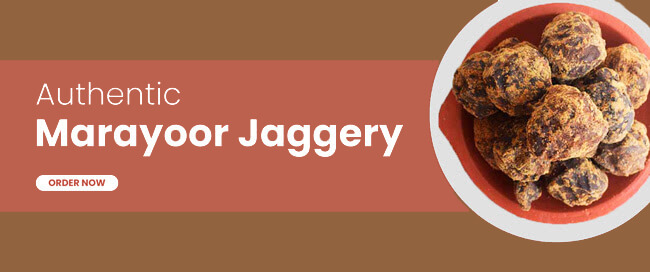 Marayoor Sharkara/Jaggery is a pan India famous variant of jaggery manufactured by the Muthuvan tribe of Marayoor using 100% natural sugarcane grown in the Western Ghats.

The age-old specialized skill of the local people in making the jaggery in the farm itself, make it a unique product. It is therefore in great demand in households across the country for the preparation of sweet dishes especially the famous Sharkara/Sarkara payasom.

The peculiar geographical location of Marayoor, which nestles amid the forests of the Western Ghats gives the sugar cane a distinct geographical identity.

Unlike other jaggeries, Marayoor jaggery is distinct in colour and aroma, dark brown covered by a patch of golden flakes with a refreshing  sugarcane aroma.

Marayoor jaggery in powdered form is an alternative for regular processed white sugar, with a low glycemic index which helps you control blood sugar.

Marayoor Jaggery has rich iron content which helps you with oxidative stress.

Marayoor Jaggery is chemical-free, preservative free and organic jaggery made only with local sugarcane grown in the area.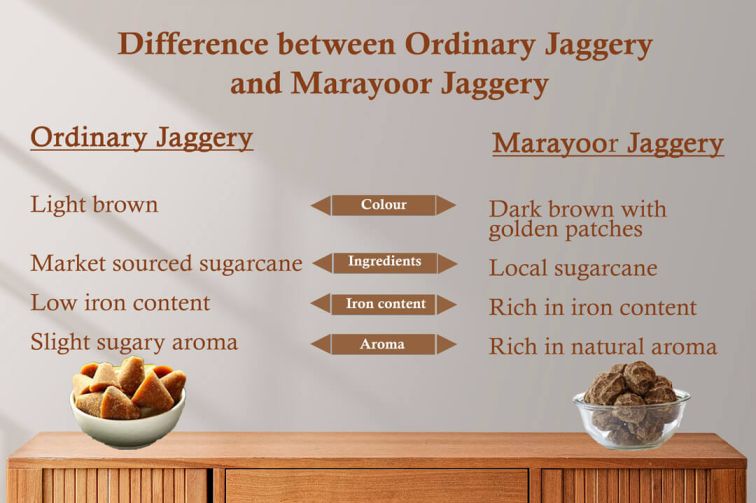 Customer questions & answers
Question:Why is Marayoor Jaggiri special?
Answer:Marayoor Jaggiri has GI tag and is made using traditional methods in Marayoor town in Idukki district of Kerala.Tagged as one of the best variety of Jaggiris.
Question:Why this name Marayoor?
Answer:This jaggiri is made in a local town in Marayoor using the traditional method and hence the name.One of the purest and cleanest Jaggiri available is Marayoor jaggiri.
Tags: Marayur jaggery, മറയൂർ ശർക്കര, गुड़, Vellam, Bellam, Marayoor Sarkara, Jaggery Sugar, Marayoor jaggery, marayur sharkara, marayoor sharkara, kerala jaggery, kerala marayoor sarkara